Crawlspace Combo Unit with Upstairs Control Unit & Booster Fan (HCS-CSB) - ONLY AVAILABLE FOR USA
Fully automatic, so no need to go into the crawlspace
Easy to install, effortless to maintain, and never any water to empty
An HCS-CS system installed in the crawlspace is the key to a healthy indoor environment, upstairs and down, year-round.
With sensors in both the crawlspace and upstairs, unhealthy, damp and musty air is automatically expelled as needed.
The booster fan ensures that the air comes directly from the upper levels of the home, and not other parts of the crawlspace (like cracked foundations, windows, doors. etc.)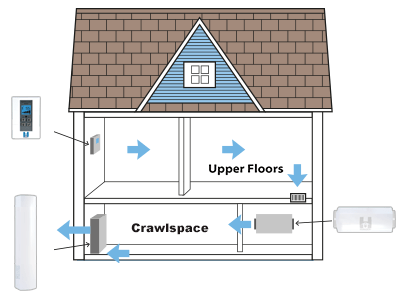 The Humidex HCS is built to the highest standards. Your satisfaction is assured by our highly responsive teams that are well versed in both technical assistance and customer service.
This unit
DOES NOT USE
MyHOME technology
Surface area
up to 3000 sq ft
Control unit
Wire Lcd Wall Control
Model
Humidity Control System and Booster Fan
Installation area
Crawlspace
Dimensions
H 32", W 11.5", D 8.5"
Electrical
34W Max / 115 V @ 60 Hz
Equiped with a carbon monoxyde detector
No
Warranty
5-year limited warranty – 2 years on the control unit